Features of GI Corrugated Roof Sheet:
Our corrugated roofing sheets have a "woven" textured surface, and are ideal for many commercial and residential roofing or wall panels' projects.
1) Light weight, high impact strength and simple to use
2) Deep corrugations provide bold aesthetic shadow effects
3) Strength of design allows longer spanning or greater allowable loads
4) Various corrugation profiles, including standard, mini, tile effect, box profile, etc.
5) Offer Custom-manufactured service to satisfy your special needs
6) Offer roof materials in galvanized steel, prepainted galvanized steel, also available in galvalume steel and prepainted galvalume steel
7) Offer roof accessories to help you install roof or wall panel, such as roof fasteners, roof panel machine and roof cutting tool
Standard size:
Our corrugated roofing sheets are available in a wide range of sizes. The width is from 750mm - 914mm. We can cut the length size as your requests. Our GI roofing sheet are coated by 60g/m2 to 275g/m2 zinc coating that provide a strong chemical and corrosion resistance.

RECOMMENDED ACCESSORY:
Our roof accessories include roof fasteners, roof machine and cutting tool, which can help tight and shape roof panel . We provide a wide range of sizes for your choices. If you are interested in our products, please contact us for further specification and information of those products. We will try our best to offer the professional advice and best service for you.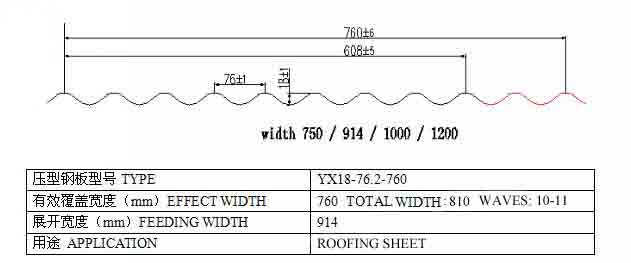 Temporary Fencing Panel
Wire diameter: 4.0mm
Aperture size: 60x150mm
Frame: 32mm , 42mm , 60mm
Panel Size: 2.1m H x 2.4m L, 2500mmx1800mm, 2000mmx1800mm, etc.
Can process all type wire fence panels, also can process logo plate
Temporary Fence Plastic Base
Made of plastic which is made from polypropylene.
Full range of colors available, now we have red, yellow, orange, blue for your choice
Hole sizes available: 25mm, 32mm, 38mm, 42mm and 48mm
Size :560x245x130mm, 600x220x150mm ,600x220x100mm
Temporary Fencing Clamp
A good quality temporary fencing clamp that will hold the pipe in place, even under extreme pressure.
These clamps are hot dipped galvanised to comply with Australian Standards.