Painting Catagory: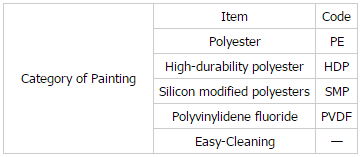 Technical Parameters:

Structure of Prepainted Galvanized Steel Coil:
1) Topcoat (finishing) which provides color, pleasing appearance and appearance and a barrier film to enhance long-term durability
2) Primer coat to prevent undercutting of paint and enhance corrosion resistance
3) Pretreatment layer applied for good adhesion and to enhance corrosion resistance
4) Base steel sheet
Production Facility of Prepainted Galvanized Steel Coil:
Pay-off Section
The operating principles and functions are similar to the galvanizing process, except that it uses a joiner to fasten the steel sheets together.
Clean, Pre-treatment and Chemical Coating
The GI coil is cleaned at the degreaser tank, where oil and dust are removed by chemical means. The white rust formed on the surface can be removed at the brush assembly. The clean coil will then be coated with conditioner and chromate at the conditioner and chromate tank respectively, to provide better adhesion and corrosion resistance ability.
Prime and Finish Coating
A basic layer of paint, called primer, is applied on the chemical coater in order to strengthen the corrosion resistance and paint adhesion ability. The requested colours and specifications of paint will be applied at both the top and bottom of the primer coated coil to complete the painting work.
Prime and Finish Oven
The primer coating is further cured at the primer oven and cooled at the primer water quench to ensure the painted coil is completely cured. Similarly, the finish oven and finish water quench also serve to ensure that the paint applied is completely cured and cooled.
Manufacturing of Prepainted Galvanized Steel Coil
Pay off reel → Double cut shear → Welder-notcher → Entry accumulator → Pre-cleaning section → Furnace → Hot bridle → Zinc pot → Air knife → After cooler → Water quench → Dryer → Skin pass mill → Dryer → Tension leveler → Dryer → Chemical coater → Chemical oven → Cooler → Exit accumulator → Oiler → Exit shear → Tension reel
Shanghai Metal Corporation is an international manufacturer and supplier for Prepainted Galvanized Steel Coil. We have two prepainted lines based on galvanized steel coil. Our monthly output for each line is approxiamtely 5,000 ton.